Can kids live in senior housing? Part two
A lot of people have misinterpreted my introducing the concept of families and kids living in "senior living" communities as a system where the elders would be "babysitting" children or supervising latch key kids every afternoon. While I would love to see a community that could embrace something that ambitious, my desire is simply to throw the concept out there and let everyone dream about the possibilities!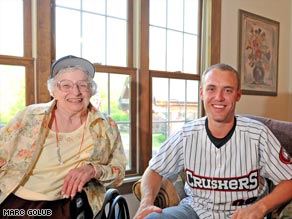 Personally, I like to refer to the example of the minor league baseball player in assisted living to illustrate what I think is an ideal step in the right direction. I would be excited if a few communities across the country start "adopting" one or two residents that break the age barrier. It might be a minor league athlete, a business traveler, maybe a family that is faced with some financial challenges. It would be exciting to learn from those willing to pioneer in this direction. I expect that there will be challenges, but after working in this field for 20 years, I doubt those challenges would be greater in magnitude from the challenges I hear management and residents talking about in every community I visit.
My gut tells me that if enough people starting moving in this direction we might discover that the concept of separating the ages is a "little bit" flawed. I emphasize a "little bit" because there are wonderful things happening in these communities (I have experienced them first hand), I think that less focus on the age of residents can open up a world of possibilites for all of us.