Choosing a senior living over a hotel . . . again!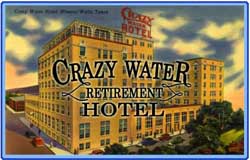 This Friday I will be serving as the moderator for the Keswick Multi-Care's Board of Directors' annual retreat. Once again I caught myself in a situation where I was getting ready to book a hotel and I realized a more appropriate lodging situation would be in a senior living community.
I was delighted that Keswick had an available room for me; I feel the experience will only enhance my perspective as a moderator for their retreat.
I won't be the first person to "break the age barrier" at Keswick. The community recently hosted an architect involved in the "Sleepover Project" that have I written about quite a bit on this blog and was featured at one of our ProAging meetings.
I look forward another enlightening experience, check back for some postings.