"You Got Your Hotel Mixed Up With My Senior Housing . . ."
". . .  you got your senior housing mixed up with my hotel" – remember those Reese's Peanut Butter Cup advertisements in the 80s?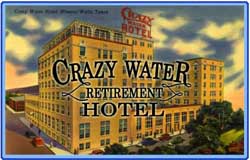 I was delighted to see the story in the news today about the conversion of the Omni Hotel in Detroit to Roberts Riverwalk Hotel & Residence which will combine 54 hotel and 54 senior apartment units.  This project is a real life example of a couple of my immersion projects that explored the concept of using rooms in senior communities for travelers.
St. Louis based Roberts Cos. a hotel, retail and apartment developer is hoping that they have tapped into a new business model . . . I certainly hope they have.  Stephanie Donaldson, the manager project is quoted in Crains Detroit Business "Most seniors don't want to live only with other seniors. They want to be around people of all ages." So I think they appear to have the right attitude in their leadership team.
Contrast that in the same story, Ron Wilson, CEO of Hotel Investment Services,  is quoted, "The biggest challenge with that concept is going to be market confusion. If I'm staying there on a business trip, will I see grandma walking by in her slippers? The key to making it work is keeping the groups segregated as best as possible."
I certainly hope that Ron is not right in his analysis of the situation.  His assessment of the situation is once again a result of the aging stigma that exists.  I have been to hundreds of senior living residences and I can honestly say I have probably seen more people padding around hotel hallways in pajamas or slippers!
The more integration that can be promoted between travelers and the elders the better.  As I stated in my previous post – I will take a 2 hour conversation with some interesting people in the dining room of a senior community – over a lonely dinner in my room or a chat with a bartender any day!